The Southern Gold Coast is renowned for being a lifestyle friendly location with strong community ties. At Ray White Tugun | Elanora we pride ourselves on being an active contributor to our wider community, we feel it is only fitting that we give back to the people that have helped us to get to where we are today. We continually support a vast array of local community groups including schools, sporting clubs & charities.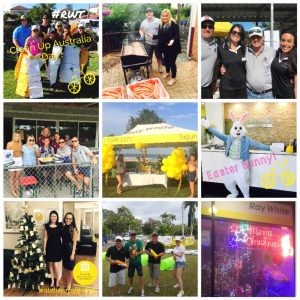 A few of the community initiatives that we have been involved in lately include:
• Wandering Warriors
We are proud supporters of the Wandering Warriors & their work within our local community. Wandering Warriors is a charity initiative of the Australian SAS Association assisting Special Forces members in their journey of coming home from battle. For more information on the Wandering Warriors or to show your support, visit wanderingwarriors.org
• School Partnership Programme
RWTE is a major sponsor of both Currumbin State School & Palm Beach State School. We believe that financial donations alone aren't enough to create meaningful change so we are continually involved in fundraising activities at both schools throughout the year, whether that be manning the BBQ at sports days, donating library bags or collating Mother's Day raffles. We hope our efforts help our local schools get the support & funding they need to run at their full potential.
• Tugun Junior Rugby League
We've been key sponsors of Tugun JRLC since we moved to Ray White Tugun in 2008, helping at charity auctions & sponsoring their playing kits.
• Tugun Bowls Club
We are community partners with the Tugun Bowls Club which is a locally operated organisation that has been an integral part of our Tugun community since its inception.
• Tugun Progress Association
Since 1931 the Tugun Progress Association has been a voice & forum for the Tugun Community. Our team are active members of the TPA & work with them throughout the year on numerous community based initiatives. A cornerstone of the TPA calendar is Tugun Lights Up a neighbourhood event aiming to literally light up the central village of Tugun for Christmas whilst supporting local businesses, helping those in need & bringing people together. RWTE is proud to be a major sponsor & supporter of this annual event.
• A Little Ray Of Giving
A Christmas initiative run throughout December whereby community members are encouraged to wrap & deliver gifts under our office giving tree. The gifts are then collected & distributed by our partners at the Kirra-Currumbin Rotary club to Blair Athol a local organisation who assists people experiencing hardship & homelessness. The nature of the gift drive allows the community to boost the festive season to those who may not be fortunate enough to celebrate it.